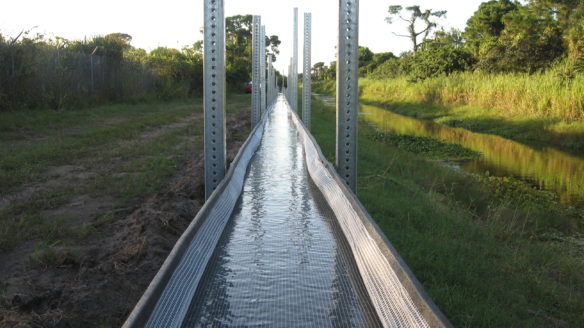 October 20, 2010
Ocala, Florida (October 20, 2010)
An Algal Turf Scrubber® (ATS™) Pilot Facility was operated over the continuous period December 4, 2008 through December 10, 2009 for the purpose of determining the efficacy of the ATS™ technology in providing nutrient reduction and recovery from surface waters associated with the Powell Creek By-Pass Canal located in North Ft. Myers, Lee County, Florida. The water quality within this canal was influenced significantly by upstream runoff and tidal flows associated with the contiguous Caloosahatchee Estuary.
The average annual phosphorus areal removal rate of the Powell Creek ATS™ pilot study was 177 lbs/acre-yr (19.80 g/m2-yr ).
The ATS™ system reduced total phosphorus to 110 ppb from and inflow of 139 ppb, and reduced total nitrogen to 0.87 mg/L from an influent concentration of  0.95 mg/l.
Based on Model projections, a 6.2-acre Algal Turf Scrubber® treatment facility located on property owned by Lee County and contiguous to the Powell Creek Bypass Canal would provide an annual removal of 1,118 pounds of phosphorus and 4,125 pounds of nitrogen from  Powell Creek/Caloosahatchee River.
About HydroMentia, Inc.
HydroMentia, Inc. designs, builds and operates innovative, cost-effective, managed aquatic plant treatment systems for pollution control and water restoration in agricultural, industrial and urban applications. The Algal Turf Scrubber® is a proprietary technology available exclusively through HydroMentia, Inc. HydroMentia owns numerous patents and intellectual property. Its head office is in Ocala, Florida. For more information about HydroMentia, Inc., go to www.hydromentia.com.