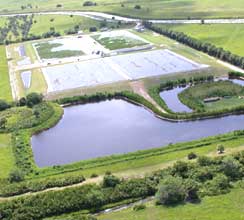 HydroMentia offers a full range of services to support its cost-effective water treatment solutions. From field investigations to full-scale system design, construction and operations, HydroMentia's team is motivated to provide its governmental, municipal, and corporate clients with cost savings and efficient programs to address their nutrient pollution control needs.
HydroMentia's team of experts includes professional engineers, designers, biologists, and system operators. Professionals with decades of experience in the design, development, and operation of commercial scale systems handle every aspect of system implementation.
HydroMentia's approach to nutrient pollution control combines innovative, creative and value-based solutions with unparalleled service and expertise.