Features and Benefits
Advances in managed aquatic plant technology have lead to its acceptance as a leading nutrient control method for regional stormwater treatment. The Algal Turf Scrubber® and Water Hyacinth Scrubber have been proven in municipal wastewater and regional stormwater treatment applications. The process of harvesting plant biomass leads to high productivity, allowing these systems to produce low nutrient effluent concentrations and high areal removal rates, resulting in sustainability and reduced treatment costs. Flexibility in design allows each application of these technologies to be engineered for specific treatment goals.
Biomass Recovery and Products
HydroMentia's crop management techniques assure effective, low-cost water treatment. Contaminants are removed from the water column, and are then processed and removed from the site through harvesting, assuring long-term sustainability.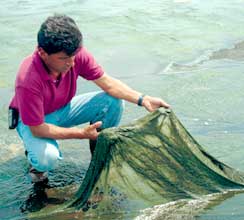 At the Algal Turf Scrubber®, biomass is efficiently harvested using patented methods. Mechanical harvesters sever the algal biomass from the growing matrix, and the material is conveyed to a transport flume where the algal turf is collected by an automatic rake at a centralized harvesting station. The recovered biomass is deposited in a storage bunker where it is available for further processing. A similar process exists for the Water Hyacinth Scrubber, where the plants are removed from the lined ponds, and transported to a conveyance flume using a patented harvest system.
When biomass is cultured within managed aquatic plant systems, such as the Algal Turf Scrubber®  and Water Hyacinth Scrubber, significant opportunities exist to market the processed material. The most commonly produced product is a high-quality compost material. Harvested biomass can also be used as livestock feed and as a feedstock for biofuel production. Research is being conducted into potential uses of extracts and fiber to identify additional, value-added products.