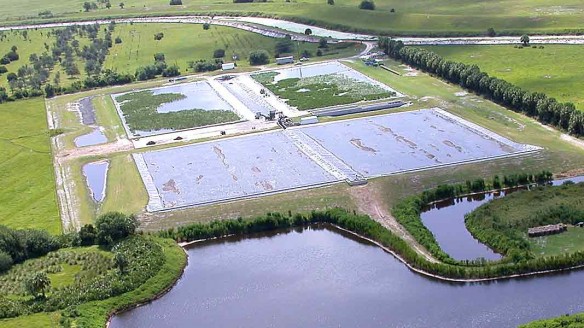 April 5, 2010
Fakhoorian
A hot buzz term in the emerging algal industry, "algal bioremediation" means using algae to scrub nutrients from water systems as a cost-effective alternative to existing water treatment systems. Mark Zivojnovich, vice president of project development for HydroMentia, Inc. is an expert in this field.
Mark, a native of Washington State, holds a B.S. degree from Oregon State University and an M.S. from Auburn University. He is a founding member of HydroMentia, Inc. and has nearly 20 years of experience in a broad scope of Florida environmental projects; including the design, operation, and promotion of numerous managed aquatic plant systems.
HydroMentia, Inc. was originally founded as a water pollution control company. In the early 1980s two independent researcher's, Dr. Walter Adey and Allen Stewart, witnessing the degradation of our nations surface waters, set their focus on the development of cost effective treatment systems for the recovery of excess nutrients, for both the treatment of wastewater and the restoration of nutrient-impaired surface waters.
Based on their extensive knowledge of aquatic systems, they selected two of the most prolific photosynthetic organisms on earth – periphytic or attached algae and the floating aquatic plant – water hyacinth. Over the next decade, the two researchers focused their attention on the development of water treatment systems designed to capture and recover excess nitrogen and phosphorus from a variety of water sources.
The technologies developed by Dr. Adey and Mr. Stewart reduced nitrogen and phosphorus in wastewater to near background levels. However, in the 1980s, the provisions of the 1972 Clean Water Act that required these high levels of treatment were rarely applied.
In the late 1980s and early 1990s this began to change. As a result of court litigation that mandated the Environmental Protection Agency to fulfill surface water protection and restoration provisions in the 1972 Clean Water Act, it became increasingly apparent that nutrient pollution control would become a major focus in the upcoming years.
To prepare for these changes, in 1995 Allen Stewart and Dr. Adey arranged a meeting between entrepreneurs, Whit Palmer Jr. and Don Panoz. Mark continues the story, "At this time I was working with Allen Stewart and Whit Palmer Jr. developing the Water Hyacinth Scrubber in Florida while Dr. Walter Adey, with the support of Don Panoz, was experimenting with the Algal Turf Scrubber® in California, where Panoz was developing real estate.
"Panoz and Palmer were committed to the vision of developing a new industry based on a business model in which natural water treatment systems provided cost effective treatment and the restoration and protection of surface waters on a global basis.
"In 1996 HydroMentia was formed with the investment of individuals who wanted to protect our environment, and realized that the most effective way to accomplish that was through the development of market solutions that made sound economic sense. Early investors included individuals such as Paul Newman, whom with the support of Mr. Palmer, established Camp Boggy Creek, a camp for seriously ill children."
Since 1996 HydroMentia has taken Dr. Adey's original idea and developed it into a commercial method for removing nitrogen, phosphorus and other pollutants from point and non-point sources. Dr. Adey is currently a member of HydroMentia's Board of Directors and he, Whit Palmer and Don Panoz continue their involvement with HydroMentia and are instrumental in its current success. We continue our conversation with Mark Zivojnovich…
Q: Mark, What is the story behind the name, "Hydromentia"?
A: The name "HydroMentia, which refers to "the intelligent use of water" was created by Don Panoz.
Q: How does the Algae Turf Scrubber work?
A: The Algal Turf Scrubber® is a managed system, engineered to cost-effectively utilize algae as a medium by which harmful excess nutrients; phosphorus and nitrogen are removed from water. The result is a technology that provides both water restoration and cost-effective algae production.
The ATS® flow-way serves as a culture unit for periphytic algae, some of the most prolific and productive plant species on earth. Polluted water is conveyed to the Algal Turf Scrubber® unit, where it is pulsed in waves across a sloped floway. Algal turf or dense mats of simple algae are cultivated on the surface. As the algae grow, they remove nutrient pollutants (nitrogen and phosphorus) from the water.
Algal biomass is then regularly harvested and processed into marketable commodities such as soil-enhancing compost, energy products or livestock feed. The harvest of plant biomass maintains the culture units in an accelerated growth phase and provides sustainability as nutrients are continuously recovered and removed from the treatment unit.
In addition to direct plant uptake, the Algal Turf Scrubber® also facilitates precipitation of phosphorus into the algal biomass. This increases the system's ability to capture phosphorus, further enhancing its capabilities as a pollutant recovery tool.
Thus far, millions of pounds of algal biomass have been produced and harvested from multiple full-scale ATS™ systems with treatment capacities up to 30 million gallons per day. While research into the potential uses of the algal biomass is ongoing, algal biomass from ATS™ systems has already been processed into organic fertilizer/compost, livestock feed and biobutanol.
Q: What has been your company's most successful bioremediation project to date?
A: We have experienced great success with a number of projects including confined animal production systems, domestic and industrial wastewater applications, urban and agricultural stormwater runoff, urban in-lake restoration, low level nutrient applications like the Everglades, where we recently completed a year long pilot study providing treatment of water that discharges from one of the treatment wetland systems designed and operated to reduce phosphorus discharges to the Everglades.
Q: You've mentioned that the Mississippi River is a likely target for your system. How do you see this happening?
A: In our opinion, the greatest opportunity for large scale production of algal feedstock from water treatment based algal production systems will require treatment of nonpoint source or stormwater runoff and the restoration of impaired surface waters.
As an example, the Mississippi River requires nitrogen and phosphorus reduction to eliminate the
Gulf Hypoxic Zone, and it has a flow rate of 411 billion gallons per day. This flow rate is nearly 40 times the combined volume of wastewater in the US from wastewater treatment facilities with flows greater than 10 million gallons per day. So there is a mandate for treatment of this large volume of water, and algae based treatment systems can be located in rural locations in the Southern US where land is available, climate is suitable for large scale algal production, and job creation is needed.
Additionally, as the US develops land-based biofuel crop production, fertilization utilization and the demand for treatment of surface waters impacted by the fertilizer runoff will increase, This will create more demand for technologies such as ours.
Q: Where would you like to see Hydromentia ten years from now?
A: In ten years we believe multi-use ATS™ water treatment systems will be in development throughout the US. These systems will include wastewater treatment and surface water restoration projects.
Hydromentia's work on the Chesapeake Bay project has an ultimate algae-to-energy focus. How do you see this unfolding as a business model?
We believe the first step toward large scale algae based energy production will be associated with those systems that can recover excess nitrogen and phosphorus from large impaired river systems like the Susquehanna, Mississippi and Suwannee Rivers.
Large regional Algal Turf Scrubber® based treatment systems will produce large quantities of algal biomass that will be processed into value added end-products including biobutanol.
As an example, to meet the objective of achieving a 40% reduction in nitrogen discharges from the Mississippi, enough algae would be produced to yield an estimated 2 billion gallons of butanol per year.